- 야오와 드림의 워크아웃
<훈련 장면 동영상 - 출처 : chron.com >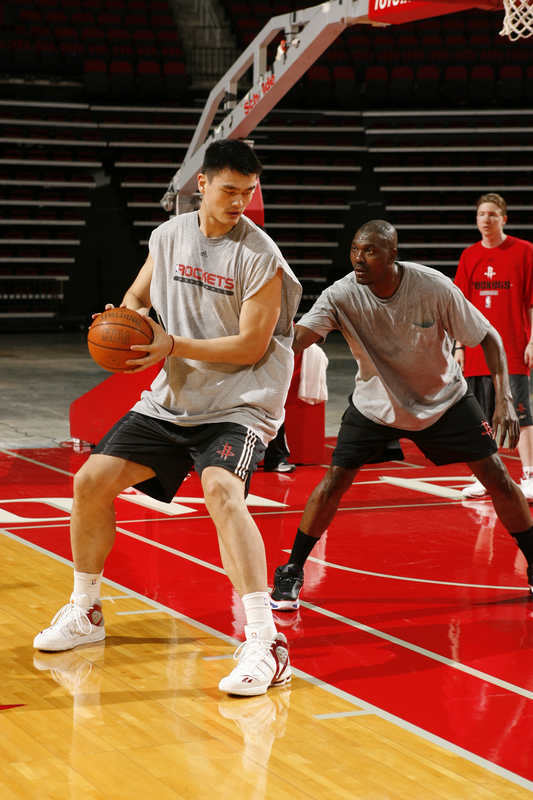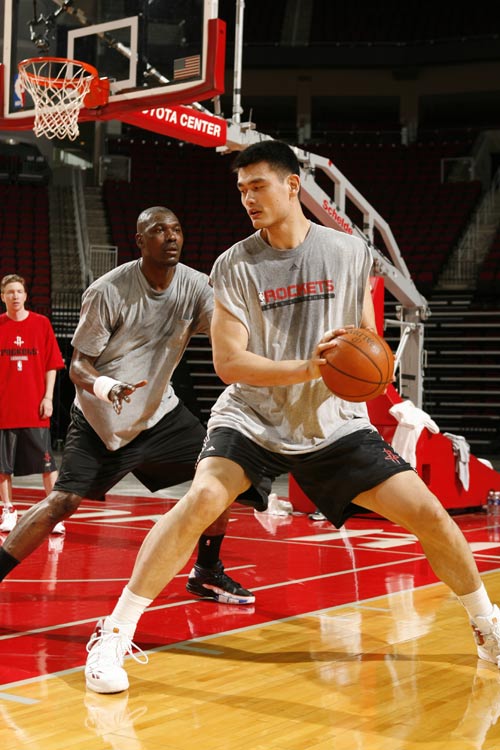 May 23, 2007, 10:20AM
It's Dream time for Yao at workouts with Olajuwon






His voice in Yao Ming's ear, Hakeem Olajuwon planted a forearm in the small of Yao's back, and one generation of Rockets royalty shoved the next toward something far greater than a different spot on the Toyota Center floor.

Beneath the championship banners he brought and the No. 34 no Rockets player will wear again, Olajuwon demonstrated and lectured, shared and inspired.

For a little more than an hour Tuesday, the greatest of all Rockets players put the latest in the team's lineage of star centers in his classroom, showing jump hooks and "Jack Sikma" jumpers, spin moves and drop steps, all to make Yao the dominant force of Olajuwon's vision.

"How do you dominate the game?" Olajuwon asked as he and Yao moved from the left block to the right. "You're hardworking. You have the conditioning. You have the shot. You have everything. Now, you need to dominate."

Olajuwon spoke of Yao using his jump hook as his basic move.

"To the middle. No. More balance. To here. Balance. Balance. If you can get the jump hook any time, it's all day. All day."

Olajuwon showed him his spin toward the baseline.

"No. Don't spin out. Spin in. All right. Nice move."

He showed Yao a jump shot stepping toward the defender.

"That's (former Sonics star) Jack Sikma. No. No. You're bringing it down to the little guy. Where's your elbow? This should be your move. That's your move. Who's going to stop that? That's a go-to move. You feel comfortable. Balance. Balance. Balance. Balance. All day."

With everything Olajuwon demonstrated, fundamentals direct from the lessons of Guy Lewis, Moses Malone and Carroll Dawson, the idea was to make Yao dominate.

"You can dominate," Olajuwon, 7-0, said, nodding toward the banner honoring him for his NBA-record 3,830 blocked shots. "You can get all new records. Do you believe that? You should.

"You should be scoring at will. You should be scoring easy. Easy. They are in trouble on defense. They are in trouble on offense. They have no answer. No answer."

After the time on the court with Olajuwon, Yao could not argue.

"For a young player, not many get this chance," Yao, 26, said. "I'm the honored one of those. Next time, I would love to have more time to be (taught) by him.

"The mentality is the biggest difference between him and me right now. I hope, not far in the future, I can be the same thing. Like him."

More in the works

Yao's agent, John Huizinga, said he has begun trying to schedule more sessions in which Yao can work with Olajuwon. That might depend on whether Yao has a procedure to remove a toenail. He has several appointments this week to determine whether to undergo that minor surgery.

Olajuwon, 44, said he enjoyed working with Yao so much that he'd be happy to do it again.

"It was so much fun to work with a great player like him," Olajuwon said. "He has so much potential. It's scary to think what he can really do. By just adding little things to his game, he can raise his level.

"The important thing for him because he is playing so well already is just how to dominate the game. He has all the advantages, and he's so skilled. (There are) little things he can do to make him be a dominant player consistently. It's scary to see what he can do in the future."

There were light moments in the workout.

While working on a move that is part of Yao's repertoire and on which he looked much more adept than on some of Olajuwon's spins, Olajuwon pointed to his blocked shots banner and said: "I'm a shot-blocker. And I'm discouraged."

On a move toward the middle, when Yao, 7-6, did not raise an elbow high enough to protect the ball, Olajuwon smacked Yao's elbow and said, "Use these."

"I know," Yao said. "On this point, Dikembe (Mutombo) is better than you."

Trying out the moves

Yao is scheduled to return to China early next month for a vacation and to begin training with the Chinese national team. He could play in one or two exhibition tournaments, he said, and try some of the moves Olajuwon showed him.

"Most of his moves are easy to learn, easy to watch on TV," Yao said. "But when you do that, with contact on your body, that's totally different. So I need to do what he's going to teach me every day, a couple hundred times a day, make myself used to it. After that, I need to play some live games, maybe use it in a national team game. And then, back to the season. I hope I can get a lot improved.

"The biggest difference between him and me is the mentality. He's got two championship rings in a row. I'm not saying I found out today, but I can hear very strongly from him, 'You are the biggest player on the court. You need to go in and change the game. You need to be dominant.' He repeated that time and time again.

"I feel a little bit different. I feel his heart."

For all that they share and shared Tuesday, that was perhaps the most valuable thing Olajuwon could give Yao.





- 반지 웰스, 제프 밴 건디와 새 감독이 될 릭 아델만에 대해 이야기하다

혹시 잔류? 반지는 플레이어 옵션을 가지고 있죠.



Bonzie Wells Sets the Record Straight

Last Edited: Tuesday, 22 May 2007, 6:20 PM CDT
Created: Tuesday, 22 May 2007, 6:20 PM CDT

MyFoxHouston.com

HOUSTON -- In his first interview since Bonzi Wells prematurely ended his season with the Rockets April 9, Wells told FOX 26 Sports he has no hard feelings toward former Rockets head coach Jeff Van Gundy. He says he is thrilled at the expected hiring of Rick Adelman as the Rockets new head coach and he says if the business side of things can be worked out he would like to return to the Rockets.

Wells left the Rockets with five games to go in the regular season because he indicated at the time he felt like he was hurting team chemistry. In the interview with FOX 26 Wells sets the record straight about his relationship with Van Gundy.

"I felt like we had a good team and I thought I was the missing link. I still do. Coach (Van Gundy) didn't see it that way. He thought he was going the right way. Coach Van Gundy didn't think I fit in. He came to me as a man and told me that. I looked into his eyes and I could see that he hurt for me. I respected that. He told me that I could ask to be waived and I told him I didn't want to be anywhere else. I hated the way it ended because I really started to appreciate him, " Wells said.

Van Gundy is not suprised at Wells comments about him.

"Perception and reality are often very different. I never thought it was personal between Bonzi and I. I think it's great for Bonzi with Rick coming in because he has a proven history with him. I think it could work out great, " Van Gundy said in an interview with FOX 26 Sports.

Wells believes the Rockets expected hiring of Rick Adelman is almost like divine intervention.

"I thought it was like God sent him here for me. Rick Adelman is a great coach. He's the best coach I have ever had. He really knows how to relate to his players. He does a great job of letting guys be themselves, " Wells said.

Wells played for Adelman for one year when both were in Sacramento.

"I love coach Adelman. With Coach Adelman coming here I really don't want to be anywhere else," Wells said.

However there is a business side to all of this. Before last season Wells signed a two year contract with the Rockets with the right to opt out after year one. The total value of the contract is about $4.4 million.

"I have a decision to make and so do they. I wanted to be here even if Jeff Van Gundy was going to be here. It's still early. I think they need a guy like me," Wells said.

Wells doesn't rule out opting out and then re-signing with Houston.