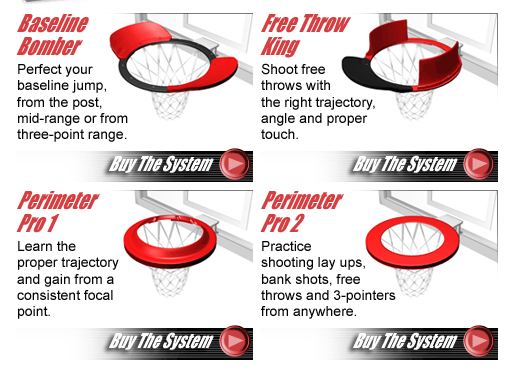 사이트 출처는
http://www.perfectjumper.com/
정말 잘 들어갈까요?
Satisfied Customers Using Perfect Jumper(그밖에 소비자들의 만족스런 사용후기)
Nick Van Exel
"I've tried other shooting devices and nothing compares to Perfect Jumper."
Lisa Leslie
"I'm always looking for ways to improve my shot so when I find something that challenges me, I use it. That is why I use Perfect Jumper."
John O'Brien
"I bought the Perfect Jumper system for my son and it improved his shot immediately. I think this is the best thing for players who want to improve their game."
Tia Mickle
"Perfect Jumper has really helped my shot. It is my secret weapon."
Aaron
"I really like this tool. I'm glad I am starting to practice with this now."
Erick Zimbrowski
"I practice with Perfect Jumper on a regular basis. I can't tell you how much it has improved my shot. I focus on the opposite color or the color my Perfect Jumper and the real rim seems huge. It is great."
L. Rose
"I'm 33 years old and my glory days are behind me, but I play every weekend at my local gym. I'm an average player, but I needed to improve my shot so I decided to try Perfect Jumper. I used it, practiced with it and when I took it off the rim looked like an ocean. I hit so many shots the next day in the gym people were in shock. I practice everytime before I go to the gym because I don't want anyone to know I use Perfect Jumper. It is my secret weapon."
Jeff Brandon
"I think this is the best basketball shooting invention. It will definitely help to increase your shooting accuracy, but the best thing is it takes a matter of seconds to install and uninstall."
Scott Lancaster
"Thank you for letting us try this out. When it hits the market, I am definitely getting my children the Perfect Jumper. It is AWESOME."
Jaron Haywood
"I have five words for Perfect Jumper. Perfect Jumper perfected my shot."